"It takes a lot of people doing their part for the music to even start." – Jimmy Faragher
"We learned to play our instruments on stage as the house band at Gazzarri's, and the Whiskey, and the Beach House, and the Topanga Corral. There were many nights when the line to get in would exceed the club's capacity." – Greg Tornquist
"The aspect of the group that I like the best is the fun they seem to have while they're playing…and, as a result so does everyone else. Bones plays real funky rock; fine vocals and has the best stage presence that I've seen in a long time." – Paula Tharpe, the San Diego Door, 1972
"Bones cry all night long!" – J.C., a Venice Beach House fan
Bones was a four piece rock band on the L.A. scene in the years 1969 – 1973. An exciting live act as well as a remarkable recording outfit, Bones crafted a sound which combined great melodies, sophisticated vocals, rockin' instrumental tracks, and (always) a danceable beat. The members were Jimmy Faragher, bass, Danny Faragher, keys, Greg Tornquist, guitar, and Casey Cunningham, drums. The band also had an unplugged, sensitive side, which featured sweet harmonies, and finger picked guitar. The guys had been known as the Peppermint Trolley Co., but in early '69, after differences with their producer/manager, they'd walked away from all their ties, including the Acta record deal, to reinvent themselves.
Relocating to Riverside, the PTC put on their thinking caps to conjure up a new name. Danny remembers – "We wanted something which was opposite to the Peppermint Trolley Company; short and earthy." (Greg) – "The Bones name came from an Earle Stanley Gardner murder mystery called Rolling Bones.  There was a book shelf in my bedroom with mystery books my dad liked to read… and I saw Rolling BONES among the 40 paper backs.  I laughed because of Rolling Stones…and then thought…Bones! That's us…skin and BONES." (Danny) – "We were deliberately looking for a word that started with the letter "B". After all, there had been some great bands in that category…The Beatles, The Beach Boys, The Byrds, The Band, etc. So when Greg suggested the moniker, we all thought it was perfect." (Greg) – " I remember we also agreed not to use skeletons or the hard on meaning…and we didn't…just like the Beatles never used insects."
The group quickly adopted a rehearsal schedule, practicing all night in friend, Chauncey Romero's music store in Redlands, The House of Note. Danny traded the clavinet for an R.M.I. piano, and the Baroque figures for boogie licks. The boys turned up the volume a bit, as they worked to carve out a more rockin' sound.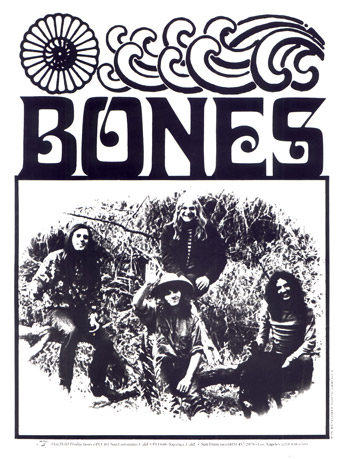 They asked friend, and former Mark V member, Steve Hauser, to help them find work. Steve, then a student at UCLA, came through (As always), booking them a string of fraternity parties. Danny recalls – "We paid some dues, playing for inebriated Animal House types, but we improved rapidly. Steve kept us booked all through that winter and spring." Whereas the PTC had been a studio group, Bones purposely geared their arrangements toward a live audience. With years of experience in the studio, they worked out every song as if they were a making a record, but with the goal of having it come off just as well in a live situation.
The semester over, and the frat party circuit dead, the summer of '69 found the group somewhat adrift. Jimmy and Greg, along with Greg's girlfriend Kerin, former PTC member, Patrick McClure, and a host of hangers- on were all living together in a two bedroom house, spending most of their time cultivating a vegetable garden in the large yard. There was also a bit of psychedelic experimentation going on. Danny lived a few miles away with his first wife, Chris, while Casey shared a Hollywood apartment with his girlfriend. (Danny) – "We'd stopped rehearsing. I remember spending my time learning boogie piano off a Memphis Slim album. Casey drove out to see me. We were both concerned, and talked about regaining the momentum. Bones needed a second wind, and we concluded that a steady club gig was the answer. We met with Jimmy and Greg, and got them revved up and recommitted"
Steve Hauser secured Bones an audition at Gazzarri's on the Strip, a popular nightclub a block east of the Whiskey a go go. Bill Gazzarri loved the group, and signed them to be the house band for a three month run. For a time, the guys all crashed at Casey's pad, but soon relocated to North Hollywood. (Danny) – "At first, it was exhilarating… working steadily… people dancing to our original music… watching the Apollo Moon landing from the Gazzarri's stage, but after a month or so, it became a grueling schedule to maintain." Bones played three sets a night, six days a week, alternating with one or two other bands set up on a second stage. The work night began at 8:00 PM, and ended at 2:00 AM. Danny recalls – "There wasn't a dressing room, so in between sets, we had to hang outside, where I got sucker punched with an uppercut to the jaw by an angry customer, a 220 lb marine… mean, drunk, and looking for trouble. We befriended the prostitutes, male and female, and got to know the other musicians, like talented bandleader, Michael Chain, guitarist Tony Peluso, and the soulful Prophets of Old from East L.A.."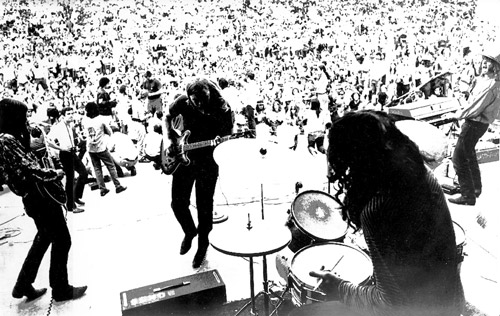 The band got tighter, their voices got stronger, and they gained some valuable street savvy. It became apparent, however, that the gig was a dead end. (Danny) – "The schedule left us exhausted, with no chance to rehearse. It also gave Jimmy little time to write new songs, and, you know, it was all about the songs. On top of that, Bill Gazzarri was not known to pay top dollar, to say the least." At the end of the run, the band decided not to sign on for another stint; giving up the security of a steady gig for the possibility of finding new audiences. 1970 found the group making their way on to more club stages …The Flying Jib in Redondo Beach, the Cave in Huntington Beach, the Beachhouse in Long Beach (The clubs seemed to hug the coastline). Steve booked more frat parties at UCLA and SC. In addition, Bones played numerous pro bono peace rallies,featuring anti-war activists like Tom Hayden and Angela Davis, and included a huge gathering in Oceanside before tens of thousands of people, in which there was a bomb threat. "We believed in the cause. Nixon had invaded Cambodia, students were being shot. We wanted to do our part."
They rehearsed every possible moment, and listened to the records of Crosby Stills and Nash, the Band, Delaney and Bonnie, the Beatles' "Abbey Road" and old Rock and Roll, absorbing, and applying it in their arrangements. They also purchased a Hammond B3 organ to beef up the music. The B3, with its ability to sustain and swell, really liberated the sound. In this period, Jimmy penned the first of what was to be surge of great songs, "He Said", a powerful ballad about a break-up. The verses take the form of a dialogue between the two parting lovers, while the bridge puts the story in the third person.
Still… the band felt they hadn't yet found their style. Some changes needed to be made. They fixed on the idea of moving up north (Ah, yes, that mystical destination) where they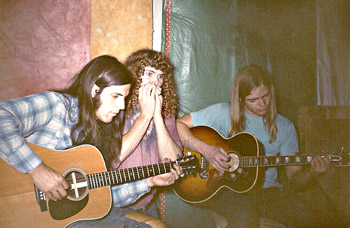 could cloister themselves, and do some intense wood shedding. After some house searching, they found a funky old place in San Geronimo, Marin County. The house, called "The Creamery" by the locals, sat near a creek, at the foot of a wooded hill. The house itself was dark, dingy, and dirty, with leaky plumbing, and no hot water. (Danny) – "To our eyes, though, it was Hippie Paradise. We hiked through the woods, took cold showers outside, ate health food, visited with the Hippie squatters who lived in the woods, and practiced, practiced, practiced.
At Greg's suggestion the guys bought the Columbia LP "King of the Delta Blues", the recordings of Robert Johnson, and began listening. (Greg) "I'd had him in my sights from High School days.  He was a featured artist in a book of Bluesmen that I bought.  I was especially taken by the friction between blues and gospel that most of the important Mississippi bluesmen experienced.  I related to that and their gypsy life style."  Devouring the album, they began to add a bluesier flavor to the band's sound.
Jimmy hit his stride as a songwriter, pumping out song after song, each one different from the last. Bones got in a regimen of rehearsing all afternoon with the electric instruments, and in the evening, they would sit in a circle singing to the accompaniment of acoustic guitars, working out the vocal arrangements to each song. Danny burned the midnight oil practicing the piano late into the night, and Greg always had his guitar in hand.
There was a darker side to this "Back to the Garden" period. The band learned they were being stalked by a group of drugged-out girls who'd seen Bones perform at Gazzarri's, and become obsessed with the band. The girls got wind of where the guys were living, and drove all the way from L.A.to pay an unexpected visit. (Danny) – "These were some confused and scary females. They could best be described as Manson Family types. I felt sorry for them, but feared what they might be capable of." In an attempt to enter the house the girls smashed in several windows, cutting hands and feet in the process. Ultimately, the sheriff had to be called, and the girls warned off. Undaunted, they would continue to show up at the house, or suddenly appear in the rear view mirror, tailing the band. Eventually they just disappeared (About a year later, the group learned that the ring leader had died of a drug overdose).
In October, the weather changed. It got cold and rainy. The band spent entire days wrapped in blankets huddled around the radio, their only entertainment. Surfing the dial, they found KSOL, the San Francisco R&B station. It was a cornucopia of styles: the Memphis sound of artists like Wilson Picket, Sam and Dave, and the emerging Al Green; the sophisticated urban sounds of Motown artists like Smokey Robinson, and Stevie Wonder; the exciting Funk of Sly and the Family Stone, and Parliament Funkadelic; and of course, there was James Brown, the Godfather of Soul. (Danny) – "Marvin Gaye had just released his masterpiece, 'What's Goin' On?' We were bowled over! We'd always listened to R& B, but now we were really hooked. The Classic Rock sound was becoming too formulized; too fenced in for our taste. It was in R&B where the most creative things were happening at the time, and we were determined to incorporate some of the elements into our sound. A lot of hard rock was still using eighth note rhythms and focusing on the top of the sound, guitars screaming, and everyone racing to the finish line. We began dividing the groove into sixteenth notes, and putting the focus on the bottom end – the heartbeat of Jimmy's bass and Casey's kick drum – and really started to lock together". (Greg) – We listened to Booker T and the M.G.s (We had the same exact instruments). We got that tight sound, and then stacked our vocal parts on top."   (Danny) – "At last, we'd come up with a truly original sound; still melodic, but tighter, funkier."
Bones brought in the New Year of 1971 opening for Lee Michaels in concert in Salt Lake City, and got a rave response from the crowd. The event was a great morale booster for the band, who now felt they were ready to tackle the L.A. scene again. "We thought we had something special to offer, and wanted to try our luck at selling that 'special something'." For a time the group all lived at Greg's sister, Betty's house in Mentone (Just northeast of Redlands). "She was an absolute angel. Here she was, a single Mom, putting up a whole rock and roll band. We wouldn't have survived without her, and I will always be grateful." In April they found a house in Malibu to rent. It had a big picture window from which the Pacific was always visible.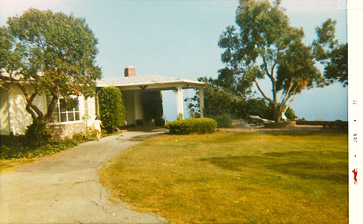 The House in Malibu where Bones honed their unique sound.
Bones hit the clubs with their new sound and began to cause excitement, especially at the Topanga Corral and the Venice Beach House, where they shared the stage with Billy Preston, Albert Collins, The Flying Burrito Bros., PG&E, and other acts, including Blues legend Albert King. Says Greg – "I stood in the front and watched my Mississippi idol.  It was terrifying.  He yelled at his guitar…  Wore 2 pieces of a grey 3 piece suit – without the jacket, and called his guitar a lot of names that night instead of Lucy…the name he gave his Gibson Flying V. (Danny) – "The artist that wowed me the most was Billy Preston, the greatest B3 player who ever lived. He played my axe, and I made sure to check out his drawbar settings when I got back behind the organ."
"We were getting a following, and soon the labels and management firms came calling, wanting to check us out. We suddenly felt like the prettiest girl at the dance." David Geffen was among those keenly interested. (Danny) – "One night he brought Neil Young along to the Topanga Corral to listen. David introduced us, and when Casey reached out to shake hands, he knocked a whole pitcher of beer into Neil's lap, as Geffen broke into hysterical laughter."
Anther interested party was producer Richard Perry, who'd had a smash album with Barbara Streisand, taking the singer in a more contemporary direction. He'd also produced a comeback LP for Rock and Roll legend, Fats Domino. Richard sat down with Bones, and articulated his vision for the band. Impressed with Perry, Bones signed a contract with his production company. (Danny) – "He had us come in and record a whole slew of demos, done the way we played them live. He referred to the sound as 'Magic'." Perry secured a record deal with a new division of Atlantic, Signpost, under the aegis of veteran record man, Artie Mogul. "We were jazzed to be affiliated with the Atlantic banner. We knew what an important role they'd played in the history of Rock." Not able to come to terms with Geffen (It's always about the publishing), the band signed a management deal with Skip Taylor, manager of Canned Heat.
Through out the rest of '71, and the
winter of '72, Bones recorded their first album, played a Midwestern tour of concerts and clubs with Alice Cooper, Poco, R.E.O. Speedwagon, and Dr. John, and coming home, numerous dates, including the Whiskey, where they shared the stage with Z.Z. Top, Edgar Winter and White Trash, and the great B.B. King. On New Year's Eve, the band played the L.A. Sports Arena, sharing the bill with the Rock and Roll legend, Little Richard, and Canned Heat.
(Danny) -"Things were moving along… We continued to record, and played college concerts and clubs, garnering new fans." Four young cats full of energy; they always put on a great show. The set would climax with Danny doing a crazy legged dance before climbing on top of the organ to play it with his feet. Greg and Jimmy would drop to their knees, long hair falling in their faces.
"To our dismay, however, Richard became increasingly busy with other projects, chief among them an album with Nilsson. He was also spending a lot of time in the south of France hanging out with the Rolling Stones, and wooing the former Beatles (He would later record Ringo). We felt somewhat neglected. We also discovered that Richard, although brilliant, was better suited at producing solo artists than bands. In particular, he was great working with stars who needed a change of direction and a career boost, like Carly Simon, Ringo Starr, and Martha Reeves. He loved the magic of our group sound, the 'In the moment' soulfulness of it; yet, it was not in his nature to let things be. He was a perfectionist, and could over work a song trying to get it right. Still, I think we made some great records."
During this time, David Geffen brought his latest band into the Topanga Corral for their first gig…a kind of dress rehearsal. It was the Eagles. (Danny) – "They were about to release the first album, and they performed all those tunes, like 'Witchy Woman'. It was funny… the club regulars, who loved to dance to our music, and sing along, shouted out things like – 'Hey! Bring Bones on!' Though I found the band to be a bit arrogant, no one could deny the accessibility of their music. They had all their ducks in a row, and I knew they were going to be huge."

The Bones album, entitled "Bones", was released that spring to rave reviews. Phil Hartman, future comedic star, did the cover art; a photo of the guys seated on a wall at the Malibu house. The LP featured songs with an original Rock and Soul vibe, like "Good Luck", "Prisoner of Love", and the funky "Door to Door Love". There were hard rockin'numbers like "L.A. Isabella", and "The Bust Song", and gentler tunes like "He Said", and "Bustin' My Heart". Danny and Jimmy played brass and reed parts, and both Greg and Danny blew harmonica. "Roberta", an infectious Rock a Roll number written by Huey Piano Smith, was released as the single, and began to show up on the charts. (Danny) – "One of the best songs we ever recorded never made it on the album… 'Hope', a great timeless ballad which could resonate today, but for some reason it was omitted." There were several other fine recordings that never made the cut: the country tinged "Greenwood County"; the Beach Boys influenced "Cold, Cold Mama"; and the Cowboy Funky "Honey Baby".
Despite the positive reviews, and the single's success, the album failed to catch on. Sadly, some of the extraordinary momentum Bones had revved up was beginning to wane. Members were meeting their future wives, getting their own places. The band had acquired roadies and tech men, who were now living in the Malibu house. Consequently, some of the tight camaraderie was lost. To shake things up, the band decided to add Patrick McClure, who had been in the Peppermint Trolley Co., and remained a close friend, as a second guitarist.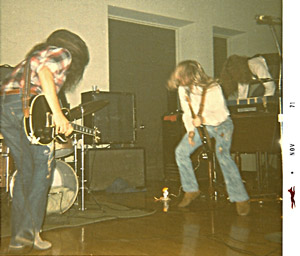 More emphasis was now placed on the instrumental side. Solos were extended, and at times the band employed duel guitar parts, a la the Allman Bros. Bones continued to play clubs and small concerts, refining material for the next album. In the spring of 1973, they recorded "Waitin' Here". Perry, now assuming an executive role, brought in Vini Poncia as producer. Vini, along with Peter Anders, had been in the Trade Winds, and the Innocence, and made some great records, including: "New York's a Lonely Town", and "There's Got to Be a Word". He'd also produced and written for Motown. (Danny) "Vini understood singing. He'd come from that East Coast Doo- Wop scene. A good singer himself, he was great at coming up with background ideas."
The sessions went smoothly; everyone giving it their all. Stand – outs are…"Undenied" – Inspired by, but not imitative of Al Green; the driving "Come Down Lord"; "Waitin' Here" – with it's spacey instrumental interlude; the rockin', rollin' "Lot of People"; "Potatoes", spotlighting Danny's funky B3; and two unplugged cuts… McClure's "More Or Less" – evocative of the Bay Area Sound, and featuring a woodsy flute part played by Greg, and the jewel of the album… "Harmony" – a simple thought beautifully put to music, featuring breathless harmonies and slide guitar.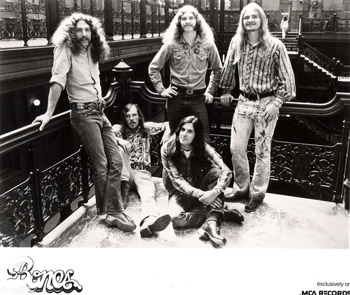 "Waitin' Here" was released in the fall, on MCA Records, Artie Mogul having sold the label. The cover photo captures the band leaning on the wrought iron stairway of L.A.'s Bradbury Building. The photography and art work were done by Bob Jenkins (Jimmy had briefly played in a band with him in college). (Danny) – "We didn't know any of the people at the label, and our record got lost in the shuffle." Released without fanfare, the album failed to catch much notice. By this time the members were preparing to move on to the next phase in life, and after six years of being together, break-up was inevitable. "I remember… Times being hard, I'd taken a job as a stock clerk. I was on coffee break when I saw a review of the record in the L.A. Times. The writer was obviously more interested in finding clever ways to dismiss the band, than in describing the music. 'How easy for him to do', I thought. I remembered the long hard road the band had traveled, the sacrifices made just to be able to even make a record. I was able to take comfort in the knowledge that the recorded legacy would live on. We'd always strived to be the best we could be… We'd captured some magic moments on wax."
In the decades that followed, the guys lost contact with each other until 2000, when Greg surprised everyone by mailing out a CD compilation of some of the best Bones recordings. In the spring of 2001, Danny, Jimmy Casey and Greg were reunited for the first time in twenty – seven years, singing a lot of the old tunes together. After the reunion, they stayed in touch, and in the fall of 2008 all five former band mates, Patrick included, were together once again for Greg's wedding. Though it had been thirty- five years, everyone remembered the lyrics as they joined in singing "Harmony"…
"Don't you go before the magic disappears/ We can sing a song to dry away our tears/ And tomorrow…We'll lay it down for all to see/ That it's true….. We can live in harmony"
BONES LIVES!

See Also: