Sing a Simple Song
The Early Years
by Danny Faragher
My parents, Al and Mary Faragher, were like many young couples in the Post War period. They'd lived through the hardships and sacrifices of the Depression and the War, and were now more than ready for their slice of the American Dream. The country boy and the city girl (South Dakota and Los Angeles respectively) put down roots in Long Beach, California, where Al found employment in the burgeoning aircraft industry, and the couple began to raise a family. Their children would eventually number eight…six boys and two girls. I was born in May, 1947, coming after John Mack ("Johnny"), August, 1945, the noted author and Yale historian, and before James Patrick ("Jimmy"), October, 1948, my future band mate (The Mark V, The Peppermint Trolley Co., Bones, and the Faragher Bros.).
I have faint dream- like memories of these very early years. I remember a moonlight drive on Rainbow Pier in Long Beach, poking my head out the window of the '43 Chevy to have a look at the sea below… the air cool and misty, and the water rippling with vivid color… I recall a mellow afternoon, sitting at my Grandmother's piano, sunlight peeping through the venetian blinds, as my fingers teased out a pentatonic melody on the black keys. …I remember the floor radio console which stood taller than me, with its art deco façade, its Bakelite buttons, and the warm amber glow of the dial, as it filled the living room with music… Classical… Western Swing….Bing Crosby…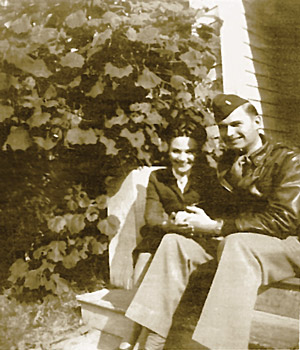 In the late Forties and early Fifties our family of five stayed in Long Beach, renting, and moving frequently. We three boys were outside a lot, playing cowboys. I recall trotting through the cactus garden, cowboy hat on my head, imagining I was on horseback as I sang at the top of my lungs …"Roll…Oh rolldereee….across the wide Missouri". Jimmy, who was always pushing to keep up with his older brothers, fell into this same cactus patch with painful results.
In 1952, my family bought a house in Artesia, which at the time was a semi-rural enclave a few miles northeast of Long Beach. It was a place in transition, with dairy farms and strawberry fields abutting newly built housing tracts. For a time the family had an egg ranch and a corn field on the one acre property. The yard also had numerous fruit trees and there was plenty of room for a boy to play; to let his imagination soar. In January of 1954, my sister, future artist and educator Patricia Anne (Patsy, Pashaa) was born.
It's no wonder that music would play such an important role in the Faragher kids' lives … it was all around. Our mother, Mary, loved to play piano. In the evenings, when my Dad was working late, Johnny, Jimmy and I would gather around the piano to hear her play and sing. She knew lots of tunes: lullabies, folk songs, spirituals, cowboy songs, show tunes, rags, hymns and classical pieces. She had such a lovely voice – a sweet, clear soprano. I have a vivid memory of Mama, her hands in dishwater singing…"Don't know why…Ain't no sun up in the sky…Stormy Weather." I would be spellbound, feeling the blues in her soul. In this pre TV world, the piano was the main source of entertainment. Music meant togetherness.
Mama always encouraged us three boys to sing, and taught us how to harmonize. A talented poet as well as musician, she began writing melodies and lyrics for our trio, and soon we were performing original gospel songs in the little wooden church our family attended. My father, though not a musician himself, loved music and was always very encouraging of these endeavors.
I learned the healing power of music at an early age. One afternoon, Mama, always in fragile health, collapsed on the floor with a seizure. Daddy was working. Pat, the teenage babysitter called for an ambulance. As our mother turned ghostly white, and began to drift into a coma, we boys, feeling helpless, began to cry and call out to her. Suddenly, Jimmy raised his voice in song, singing the children's gospel tune "Come Into My Heart". Johnny and I joined in with the harmony. At the sound of her sons singing she began to revive and reached out to clutch our hands, whispering "Sing to me, boys." Minutes later the ambulance arrived, and she was wheeled out on a gurney. I remember the moment as if it were yesterday. It showed me how powerful music could be. Music could be lifesaving.
In June of 1955 brother, Thomas Edward (Tommy) was born; future band mate, keyboardist, and songwriter (The Faragher Bros.) In that same year our father brought home a new Hi Fi and some 33 1/3 rpm LPs, among them a record of black gospel tunes by a male jubilee quartet, possibly The Golden Gate Quartet. My brothers and I were completely taken in by the sound, and wore out the grooves listening to it. We learned every blue note and bent pitch. We found ourselves emulating the technique…the vocal blend, mellow but intense… the soulful vibrato… the use of falsetto.
In the spring of 1956, my parents decided to move back to Long Beach, the family squeezing into one bedroom at my grandmothers'. For my brothers and I the move meant being thrust into a new school. Roosevelt Elementary was an integrated school, a third of the students being African – American. We became city boys. It was there that I first heard friends talk about The Johnny Otis T.V. show and Rhythm and Blues Music. On the playground and in the halls I would hear kids singing some of the songs, like "Shake Rattle and Roll". An unusual sounding name was also on people's lips… Elvis Presley.
Later that year our family bought a three bedroom house on the other side of town. Daddy became a real estate salesman. We boys began attending a new school. We all got paper routes, and began walking down to the beach to go swimming (Danny recalls these beach moments in his song, "Pacific Blue"). August of 1957 brought another addition to our ever growing family, Brother David Allen (Davey), future band mate (The Faragher Bros.) and bassist extraordinaire.
In the fall of 1957, after seeing the Firehouse Five plus Two playing Dixieland Jazz on "Mickey Mouse Club", I became intrigued by the trombone, and signed up for the public school music program. I set about learning how to play the horn and to read notation. Jimmy signed up for cello.
The week before Thanksgiving, of 1957, we three older boys all came down with the flu. Confined to bed in the same room, we tuned the radio to a top forty station to break the monotony. What we heard would change our lives. The first wave of Rock and Roll was reaching its high water mark, and the sounds were like nothing we'd been exposed to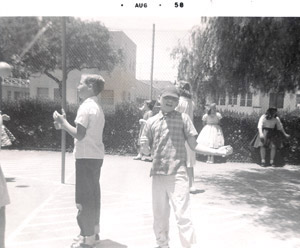 before, bursting with energy and excitement, and with some of that soulfulness we'd heard earlier in the gospel record. The names of the artists in the top twenty are still legendary … Little Richard, Elvis Presley, Chuck Berry, The Everley Brothers, Fats Domino, Buddy Holly and the Crickets, Sam Cooke, and Jerry Lee Lewis, just to name a few. At this time, top forty radio was a big tent. DJs still spun records by Swing Era artists like Sinatra, and Nat King Cole, as well as Country crossovers by the likes of Ferlin Husky and Marty Robbins. The Rock and Roll field itself was really diverse, and included Jump, New Orleans R& B, Rock-a-Billy, Doo Wop, etc. I remember digging anything that caught my ears. I was completely open,
We began pooling our allowance each week to buy a hit 45 single. We soon discovered Dick Clark's "American Bandstand" on the tube. It thrilled me to see the pony tailed girls dancing and turning in their tight skirts. Man, music could be liberating.
I got better and better on the trombone, playing by ear a lot in addition to reading the notated sheet music. I composed boogie type instrumentals which I'd perform in front of class, trying hard to imitate the sax solos I heard on rock records. I also wrote my first rock and roll song…"Rockin' in the Street", and dreamed about performing music on stage. I also dreamed about being desired. Sometimes before falling asleep I would fantasize that I was being swarmed on the playground by girls who were intent on kissing and caressing me. The thought would get me so excited that the hair on my arms would stand up and I'd have to sneeze from the chill the fantasy gave me.
In 1959 I began attending Jr. High School. Jefferson was white and working class. It was fashionable to appear tough; to act the "Rebel Without a Cause". I played first chair trombone in the school band, and I also got a chance to perform rock and roll in front of my homeroom. The homeroom class usually met in the auditorium first thing each morning, but for some reason we were meeting last period on this particular Friday, and I had my gym clothes stuffed in my tennis shoes as did most of the boys. Everyone was growing restless as we sat waiting for the teacher to show. I'd been listening a lot to Shirley and Lee's 'Let the Good Times Roll' and I had all the vocal inflections down. On an impulse, I jumped up on the stage and began singing the tune as I snapped my fingers, and shuffled my feet. The other kids got excited and began to clap along. Then some of the girls dug my clothes out of my shoes and threw my jock strap on the stage just as the teacher walked in.
In February of 1960, sister, singer, and future band mate Pamela Kay (Pammy) (The Faraghers) was born. In September of that year our Dad took a new job – running a roof truss company, and the family uprooted once again, purchasing a home in Redlands, California, 70 miles east of Los Angeles, in the semi-desert region known as the Inland Empire. Redlands, although conservative, was a great place to grow up. A college town (the University of Redlands) with a rich cultural identity, the city could proudly boast of its Redlands Bowl, and Lincoln Shrine. In 1960 it still had acre upon acre of groves within the city limits which produced the sweetest, most delicious naval oranges one could imagine, and on early mornings the mountains would shimmer in the crisp autumn air. A boy could walk for miles up and over its southern crest and down into the San Timeteo Canyon, which smelled of sage, and spend the night under the stars. For a city boy it was a Tom Sawyer experience.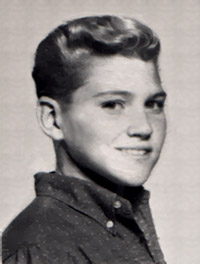 In November of '60, the nation elected a new President, John F. Kennedy. The Eisenhower years were coming to an end. By comparison, Kennedy projected youthfulness and energy. Real change seemed to be in the air. One could sense it was the dawn of a new era.
In late '60 and early '61 I began performing a tune popularized by the great Conway Twitty…"Lonely Blue Boy". I had all of Conway's vocal tricks down: the edgy Rock-a-Billy upper range and the full throated lower register with the sexy croaks. Oh, it felt so liberating to perform it! I sang the tune for small groups of friends. Word got around. At a big dance, which was promoted and MC-ed by KFXM's, George Babcock, some girls persuaded the DJ to let me sing. Over the PA, Babcock asked – "Where is Danny Faragher? Come on up and sing for us" Surprised, my heart racing, I nonetheless approached the microphone. It was one of those big boxy mics with a grill that I'd seen Elvis holding in photos. I took a deep breath, grabbed the stand, and… channeling Conway and Presley, began singing… "My name should be trouble. My name should be woe…" It brought the house down. Afterwards the DJ took me aside and asked me to join his roster and perform at some other "Hops". He said he thought I could be a big hit. Babcock was one of those wild DJ types, and although it did wonders for my ego to be asked, I knew my parents would never allow it. Hey, I was only thirteen!
I continued to improve on the trombone, playing first chair in the school band. Jimmy decided to switch from cello, and began taking clarinet lessons. In January of '61, I set into motion a dream I'd long had by forming my first band. The line up included reed man Steve Hauser, who would tirelessly promote the group (The Mark V) all through our school years. By 1962, the permanent members were: Steve Hauser, sax and clarinet, Dave Kelliher, trumpet, Brad Madsen, piano, Dick Owens, drums, and me on trombone. At home, I began to tinker with the piano, figuring out Floyd Cramer and Ray Charles licks, learning chords, and teaching myself left hand stride and boogie patterns.
March of 1962 brought the eighth and last of the Fara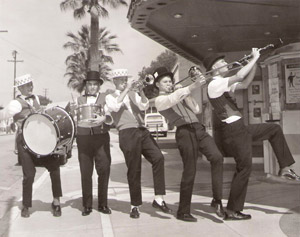 gher children… Martin (Marty) Micheal, band mate, drummer/percussionist, and skilled carpenter.
In the early Sixties there was a small Dixieland revival, and I fell in love with the genre. This interest in traditional jazz, and primary artists like Louis Armstrong, Kid Ory, and Sydney Bechet soon led to an interest in contemporary jazz, and artists like Miles Davis, Dave Brubeck, Paul Horne, and the Jazz Crusaders. I set out to get my band mates sold on the modern sound. Steve and I would talk of turning the "teenagers on to jazz" (What dreamers we were). I would listen for hours to jazz albums, almost hallucinating. The solos could be expressive in ways I hadn't dreamed of.
In my sophomore year the high school band was taking a bus trip to Palm Springs to play in a parade. The three tuba players were sitting at the back of the bus, each playing a harmonica. Liking what I heard, I hung with them all the way there. After the parade I stopped in at a drug store and purchased my first harmonica, a Hotz. I don't think I took it out of my mouth from that moment until the bus pulled back into the school parking lot. By then I was already a better player than the other guys. From that time on, I would continue playing the harp.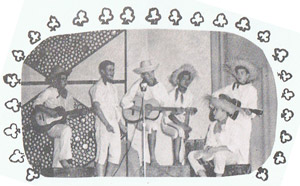 Folk music really had an influence at this time. Mainstream acts like the Kingston Trio and Peter, Paul, and Mary were selling millions of records. My older brother, Johnny, who'd been playing guitar since 1958, would sit and sing the tunes of Woody Guthrie, Pete Seeger, and Leadbelly, as Jimmy and I would join in on harmony. I learned to strum a few chords and do a little Travis picking on the guitar. For a short while, Steve and I, along with our drummer, Dick Owens, had a folk group, performing mostly Kingston Trio numbers like "Tom Dooley" and "Tijuana Jail".
In 1962 The Surf Music scene was on the rise. Redlands had their own Surf Band heroes, the Tornadoes. They actually hit the national charts with "Bustin' Surfboards", an instrumental based on twelve- bar blues changes with a hooky drum beat, and the sound of the surf layered over. The band put on stomps in the National Guard Armory. I had to admit it was pretty exciting to be there in that sweaty hall, guys and girls dancing frantically to the twangy sounds of the Fender guitars. At the same time, The Beach Boys were gaining national popularity doing a vocal version of surf music. The band was scoring hit after hit, each record more impressive than the one before. As someone versed in harmony singing, I recognized their vocal sound as superb and unique.
Other pop music caught my ear… artists like Del Shannon, Roy Orbison, Gene Pitney, Mary Welles, the Four Seasons… girl groups like the Shirelles and the Exciters. Not everything on mainstream pop radio was good, but there was some great stuff to be heard. In the summer of '63, a record played on the radio for a brief time. It was really catchy with a lot of energy, but wasn't around long enough for me to catch the name of the band. The song was called "From Me to You".
Near the end of summer, Jimmy, who had channeled his cello fundamentals into first learning the tenor banjo, and then the upright bass, was added to the Mark V. I'd always wanted the two of us to perform together again. It was amazing how fast he picked up the bass. I was jazzed!
I was getting pretty good on the harmonica, and got the idea to put together a vaudeville type musical act. I enlisted first Jimmy, then Steve and Brad from the Mark V, along with drummer friend Casey Cunningham. Casey came up with the alliterative name, Clem and his Critters. The group's first performance was on the morning of November 22, 1963. We played in a small auditorium during nutrition break, and we were a huge hit. The kids loved it, and laughed their asses off. I felt ten feet tall as I walked to English class, not knowing that in Dallas, Texas…at that very moment… the world was changing.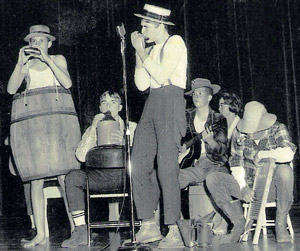 The weeks following the Kennedy assassination were dark and sad. Everyone I knew had been traumatized. I think back on those days, and imagine that the skies were continually grey; it's an image softly blurred by teardrops. My belief in an orderly world, a world that was always moving toward something better was badly shaken. Why did it have to happen? What sense did it make? I f only we could turn back the time. I had already felt somewhat alienated before the tragedy. Now my teenage confusion was compounded. My grades suffered, and my social life became all but nonexistent. Music was what kept me going; music is what gave me a purpose in life and, thanks to Steve, the Mark V was always busy, rehearsing every Sunday at the family house, and playing lots of gigs.
At dances I particularly relished the moment when I would don a straw boater, and perform a wild, crazy- legged dance (A spin-off of the Mashed Potato) to the band blowing a fast Dixieland number. I would be in a trance – like state, dancing 'til my eyes filled with sweat, as my heart pumped harder and faster… releasing all that pent up emotion. After what was the equivalent of sprinting a quarter mile, I would drop back down to first gear, and, nonchalantly putting horn to lips, join my mates in taking the last chorus on home.
In early March we played for a University of Redlands sorority party. On our breaks the college girls, dressed in short denim skirts put on the "Meet the Beatles" album and did a kind of line dance to the music, shaking their hips to songs like "It Won't Be Long", and "Little Child". The next day Jimmy and I went to the grocery store and bought the LP; we must have listened to it twenty times in a row.
For me, the arrival of the Beatles was like the sun suddenly breaking through the clouds on a gloomy day, and I slowly began to emerge from my Deep Blue Funk. Jimmy and I did more and more singing in the band, and Dave picked up the electric guitar. The radio blasted the sounds of the British Invasion, and Motown, and we became keen on the new music. I still loved playing jazz, and I sat in with the University of Redlands Jazz Band, but I'd always been moved by the emotional directness of a simple song, and began to steer in that direction.. I'd written instrumentals for the Mark V, now I decided to try my hand at writing some rock songs. I composed a couple of tunes, and the band worked them up, recording them on my tape machine. We decided we'd include them in a batch of demos we intended to record in the summer, intent on shopping them to a record label.
The world was beginning to stir. It was the era of Freedom Marches, and the fight for Civil Rights. The war in Vietnam was escalating, and there was a growing peace movement opposing it. Music was rapidly changing, as well. I discovered Bob Dylan and was blown away by the power of his words. I started to let my hair grow. I became a voracious reader, and I gradually began to question the rigidity of the old order. Turning eighteen, I registered for the draft, like all young men at that time. The prospect of being sent to fight in a far off jungle was sobering, to say the least. I thought of my mother's brother, my Uncle Mac, who lay resting somewhere in a cemetery in France, forever nineteen years old. He and Mama had been close, and his tragic death had left a scar on her heart, and on the family.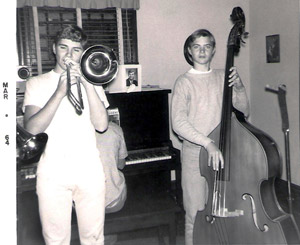 Shortly before graduation some buddies and I, on a late night whim, hopped into a '59 Edsel and drove to Palm Springs, heading east on old Highway 99. I had visions of a wild street scene… pretty girls, dressed in shorts, eager to meet some fun- loving boys. In our naïveté, we hadn't realized that the season was over, and the town had rolled up at 8:00. Disappointed, we stopped in at Sambo's for pancakes. On the way back we pulled off to the side of the highway to relieve ourselves. I walked a few yards away from the car, and as I stood there to pee, I could feel the warm desert air in my face. It felt good. The sky was lit up by a million stars. In the distance a train sped by. I could hear music coming from the car radio… Van Morrison singing… "Whoa! Here it comes. Here comes the night". It was one of those moments when you're keenly aware of being alive. I could see that I was emerging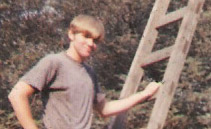 from childhood. What was on the other side? What did the future hold for me? I at once felt fear of the unknown and excitement at the possibilities the future held out. I knew in my core that I would continue on my musical journey; that I would make it through somehow. Suddenly filled with a giddy sense of joy, embracing life, embracing the unknown, I found myself singing along in full voice… "Whoa! Here it comes. Here comes the night"
The story continues…
Read the Biographies of Danny's bands:
The Mark V
The Peppermint Trolley Company
Bones
The Faragher Brothers