The Mark V
A.K.A. The C-Minors, The Intercoms & The Peppermint Trolley Co.(First Incarnation)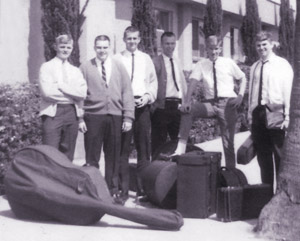 The Mark Five had its beginnings in January of 1961, when thirteen-year-old Danny Faragher was in the eighth grade at Cope Jr. High School in Redlands, Ca. It had always been his dream to put together a band. He assembled a group of musicians, including reed man Steve Hauser. The two of them would co-lead a band for the next six years. "I was the creative spark and Steve was the business head. He was always thinking of ways to promote the band, and kept us working constantly all through our school years". The band worked up head arrangements of Hollywood instrumentals such as "Peter Gunn", and "A Summer Place", R&B numbers like "A Night With Daddy G", and "Watermelon Man", plus rock tunes like "Peanut Butter" and "Quarter To Three". By the summer of '62 the lineup became set, with Steve Hauser, reeds, Dave Kelliher, trumpet, Brad Madson, piano, Dick Owens, drums, and Danny on the trombone. A permanent name was chosen – The Mark V (or Mark Five). By a strange coincidence, three of the band members, Steve, Brad, and Dick all shared the same birthday…May 18th …And that coming three days after Danny's on May 15th!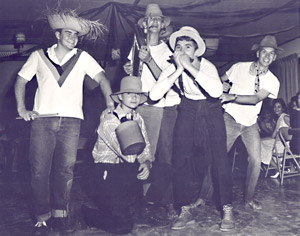 Danny remembers – "It was a great lineup. Brad was an excellent piano player. We really depended on him and his strong left hand to anchor the sound. He could play most any style. Dave played a hot trumpet, with a sound steeped in the blues, while Steve had a smooth and beautiful tone on the alto sax. In back, Dick kept a steady and straight ahead beat."
The early Sixties was the age of the pop instrumental. Says Dave Kelliher – "Instrumentals (particularly surf tunes) were hot. But also you had songs like 'Wonderland By Night', 'The Lonely Bull', 'The Theme from Mondo Cane', and all of that Al Hirt and Tijuana Brass stuff on the charts in the early 60's (a lot of trumpet solos there…). Also, novelty songs were big ("No Matter What Shape Your Stomach's In" from the Alka Seltzer commercial)."
In addition, there was a small Dixieland revival, exemplified by Kenny Ball's "Midnight in Moscow", and the Village Stompers' "Washington Square". The Mark V got very good at playing this hot style. (Danny) – "We learned how to improvise in an ensemble style, and got very good at playing off each other. The feeling was liberating." Later that year the band got turned on to modern jazz, as well, and began to incorporate the genre into their repertoire. "Steve and I used to talk about turning the teenagers on to Jazz. Yea, right!" The band soon graduated from playing freebies to doing paid gigs. Steve kept them booked. They developed a local reputation, and were more and more in demand.
The Mark V was a prom band; high school dances were its bread and butter. At the time, most schools would not hire rock groups for their proms. The rock outfits, mostly instrumental surf bands, played Friday night stomps in the gymnasium. The combos that were usually hired were made up of musicians who'd cut their musical teeth on jazz and swing. (Danny) – "These cats were good players, no question about it, but they were from an older generation, and the kids couldn't relate to them. Our band, however, could play the ballads and the swing numbers and throw in … say, a cha- cha, but being teen- agers ourselves, we could also play the newer pop and rock material."
In the summer of 1963, Danny's brother, Jimmy, who had channeled his cello fundamentals into first learning the tenor banjo, and then the upright bass, was added to the Mark V. The addition really clicked. The bass locked in the rhythm section, freed up Brad's piano playing, and added bottom to the mix. The band now sounded much tighter, much more sophisticated.
In early '64, The Beatles exploded on the scene, changing everything in their wake. The band had a huge impact on Danny and Jimmy, and thus with the Mark V. Brother Jimmy recalls – "When The Beatles first landed, we were playing Thursday-night parties at this frat house. When we took a break, these girls in their denim short skirts were doing a dance to the 'Meet The Beatles' album. Well, from that point on, I knew exactly what I wanted to do… It was like an epiphany. So Danny and I went down to Sage's Grocery Store and bought our own copy. We listened to it about 20 times straight!"
The Mark V began featuring vocals much more… lots of two and three part harmonies that came so easily to the brothers Faragher. (Danny) – "With the success of the Beatles, Jimmy and I once again became more and more drawn to vocal rock. Our hot trumpet player, Dave, took up electric guitar. At dances we would get lots of requests for the vocal material. By the middle of 1965, we were performing songs popularized by the Beatles, Stones, and other British Invasion groups, as well as those of the Beach Boys, the Byrds, and other groups.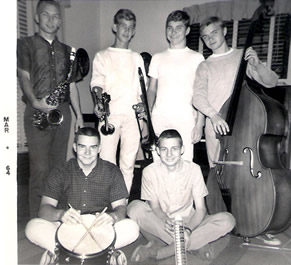 That summer the band went into Loci Sound, a recording studio in Riverside, and cut some demos. (Dave) – "No producer, just us and whatever studio time a hundred bucks would buy." They recorded some instrumentals, which included a few standards, and a couple of originals…"Pinder's Exit", a jazz flavored R&B piece and "Phillip's Theme", a piano solo. What proved to be more important were the two original rock numbers the group laid down…"I'm Through With You", and "I'll Keep On Trying". (Danny) – "These were the first rock tunes I'd written since I was a kid."
Excited by the results, the boys took a day and made the trek into Hollywood to shop the songs (Danny) – "When I think about it now, it seems so naïve of us to have made the rounds cold without an appointment. It was probably a good thing that we didn't know any better." Getting off the freeway they eyeballed the Capitol Records building. "Lo, and behold, there was Bryan Wilson standing in front, carrying on a conversation with someone. We were jazzed! We began knocking on doors. I recall sitting in the lobby of Liberty Records, and looking at the photos of their two biggest artists, Gary Lewis and the Playboys, and P.J. Proby. We actually got in the door and met with the president of VeeJay Records, Randy Woods, who had just signed the Standells. Unfortunately, we weren't what he was looking for."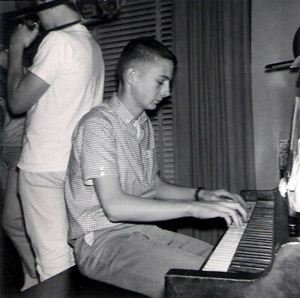 Feeling a bit disappointed they decided to take care of another item of business while in town. (Dave) – "We had recorded an instrumental at Federal Studios at 5539 Sunset Blvd. in 1964. We went back a year later to get our masters but Federal was out of business, replaced by Impression Records. We were greeted by Sonny and Al Jones who wanted to hear our stuff. Al and Sonny needed something quick and probably had a narrow window in which to work with producer, John Fisher, who was riding high with Suspicion by Terry Stafford and Hang On Sloopy by the McCoys. (Fisher loved to tell the story of how they got that strange sound in Suspicion…they put a paper bag over the organ's Leslie speaker.)"
(Danny) – "Fisher was a real character, as were all the guys at Impression. They all hailed from Shreveport, LA, and talked like Jerry Lee Lewis." The producer liked what he heard, however, and booked the studio time then and there. (Dave) "You can't underestimate how the British Invasion had really fired up the band scene in L.A. In no time we signed with Impression."
(Danny) "We cut masters of the tunes a few weeks later. The session was at H.R. Sound in West L.A. We were six scared but very excited kids. The great guitarist, James Burton (Ricky Nelson's Band) was brought in to play on "I'll Keep On Trying", and Gerry McGee (He did The Monkey's sessions the following year and currently plays with the Ventures) on " I'm Through With You", which was the A side. The records have a youthful energetic sound that can only be produced by teenagers eager to show what they can do. "I'm Through…" bursts out of the chute with a jangley sound produced by the combination of Brad's piano fills, Gerry McGee's 12 string, and one of the band members shaking a tambourine. After six quarter triplets climb the scale, Dave's soulful trumpet comes in with its singing tone. The sound stands alone…a combination of British Invasion, Folk Rock, early Sixties Pop-Rock, and the Tijuana Brass. Dick Owens' acquits himself quite well on the drums, Jimmy's bass playing as always, is right on the money (and on upright no less!), and Steve throws in a good pass on the background vocals.
That fall "I'm Through with You." got airplay on the local Inland Empire stations. (Danny) – "I had never been as thrilled as when I woke up to my song playing on the funky little clock radio. Man, I thought I had it made. I learned a hard lesson a few weeks later when the record disappeared from the airwaves. This was a cycle I would become familiar with over the next fifteen years… the old roller coaster ride."
.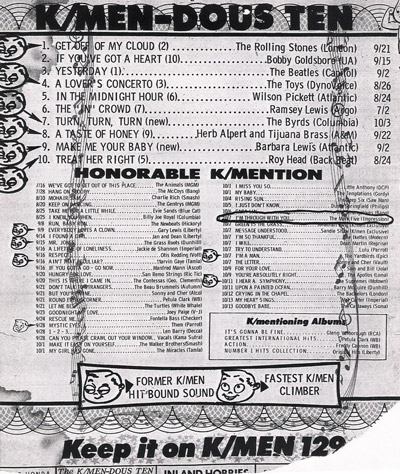 Life goes on, however, and the Mark Five, having gotten a second wind, recorded four more sides for Impression under the names The Intercoms and the C Minors. These records don't quite measure up to the first release in their production value, but they have a nice vibe, a nice youthful energy to them. "Just A Little Feeling" and "Don't Go" were penned by, Jimmy. These two were among his first attempts at song writing, and the Beatles influence is strong. Within a few years, Jimmy would grow into a great song writer. "Unoriginality Blues" is Danny's. The song references Bob Dylan, though the vocal is sort of a cross between Mick Jagger and Roger Miller. The harp work still stands up in spite of the speed freak tempo. "Please Try and Understand" was written and sung by trumpeter/ guitarist Dave Kelliher, who later changed his name to Dave Roberts and had a very successful career in radio. Again, a strong Beatles influence, with a bit of George Harrison's adenoidal charm. (Dave) – "I wrote 'Please Try and Understand' (okay, so my English was bad…not as bad as my singing or guitar work for that matter), the song on the flip side of 'Unabridged, un…' I also sing lead and play lead guitar."
.
Danny remembers – "Those months at Impression, recording on Saturdays were invaluable. It was like a college for becoming a recording artist. The place was not only a record company, it was a studio, and song factory, as well.. The guys who ran it had been Rock-Billy cats, Country singers, and R&B players. They had an in house songwriter who composed some great shit kickin' tunes which they cut with a Bakersfield artist. I remember Glen Campbell coming in to put a Buck Owens type harmony on one record. They also recorded a strong Soul singer named Jimmy "The Preacher" Robbins. We played horns and drums on his song 'I Just Can't Please You'. Great record! It later became a big R&B hit after it was sold to another company. Jimmy was the first Soul singer I saw up close, and the power of his voice made a lasting impression on me. Jim Messina (who would later gain fame with the duo, Loggins and Messina), was their fix- it guy, and came in frequently to tweak the studio's sound equipment. There was also a stream of local teen bands coming in to record; Garage Pop Rock stuff. The place was a real musical melting pot."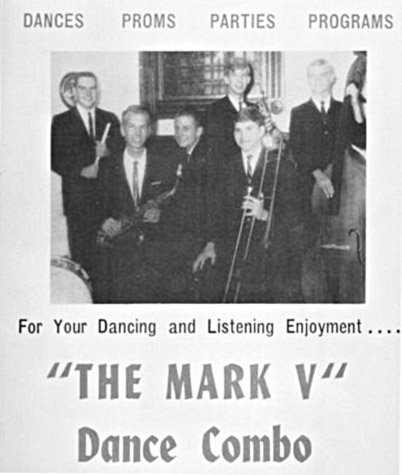 In the spring of '66, the Mark V began backing up a singer named Mickey Elley. Mickey was a folkie who played the local Southern California club circuit, venues such as the Ice House in Glendale. Mickey and the band auditioned and got booked to play Disneyland for Grad Night. The Association was also on the bill. (Danny) "I remember being blown away by their sound, their tight vocal harmonies, and their cool attitude. They were fine performers. 'Along Comes Mary' was climbing the charts and they seemed on top of the world. Incidentally, the Disney people got upset when they learned the song was about weed, and forbade them to perform it."
Mickey was cutting some demos in Hollywood at the time with a producer named Dan Dalton. He raved about how great Dan was. One night at a rehearsal with Mick at his folk's home in West Covina The group played their latest original song for him. Penned by Jimmy, it was an unusual hybrid of Rock, Country, and Dixieland called 'Bored To Tears'. Mickey was so excited when he heard it that he got Dalton on the phone. "We performed it three times… once for Dan, once for Lois Fetcher, his wife, and one more time as they shared the receiver. The couple then drove out to West Covina from their Silver Lake home to meet us. We performed for them, and chatted a bit. Dan was charming, funny, and full of creative ideas. Both he and Lois exuded a youthful energy. Dalton was interested in recording us. Within two weeks we were in the studio."
The Daltons had cut their musical teeth on the Folk Music revival of the early to mid sixties. Lois was a good harmony singer with some great ideas for vocal parts. They both dug the harmony rock sound of groups such as: the Beatles, the Byrds, the Beach Boys, the Lovin' Spoonful, the Mamas and Papas, etc. "We were impressed that they had rubbed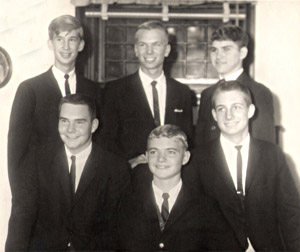 elbows with some of these artists." – (Danny)
"We hung out at the Daltons' home and prepared to record. Also hanging out at the time was a singer-songwriter and guitarist named Buzz Clifford. Buzz had had a hit in '61 called 'Babysittin' Boogie', a novelty record that featured the producer's son making ga-ga goo-goo sounds. Buzz was a really talented guy, in spite of the silly song. He could sound warm like Buddy Holly, or belt out a Soul song with the best of them. He'd been on some of the early Rock and Roll shows (He once told us of Chuck Berry beating the shit out of Jerry Lee Lewis for the latter's having called Bo Diddley the "N" word.)…"
"Dan suggested that we come up with a hipper name. We all tossed around ideas, but I remember the moment Jimmy pieced it together, thus becoming the first person to utter the words…'The Peppermint Trolley Company'. At the time there weren't any other bands with similar sounding names…like 'The 1910 Fruitgum Co.'., or the 'Strawberry Alarm Clock.'"
In July of 1966, the basic track to "Bored to Tears" was recorded at Moonglow Studio in Hollywood. As much as he liked the group, Dalton decided to cut the track using other musicians; among them: Buzz Clifford, James Fleming Rasmussen, a Danish pop star Dalton was producing for Capitol, and future Moon members, Danny Moore, and brother Mathew Moore. Danny and Jimmy did the singing, and the band recorded the Dixieland horn parts.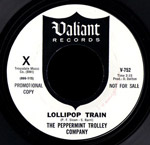 Within a week or two the producer had picked another tune he thought would be good for the band… a song called "Lollipop Train", written by P. F. Sloan- Steve Barri. Again, Dalton chose to use backing musicians to put down the basic, although the band played the horns, and Brad played a carousel organ part on the B3. Dave recalls – "Dan couldn't get the kick drum sound he wanted at the beginning of each verse so Dick overdubbed the beating of the kick drum case with a tympani stick." Jimmy recorded an edgy lead vocal with Danny and Buzz doing the harmonies. (Danny) – "We all dug the way it turned out; very hooky."
Lollipop Train/ Bored to Tears was released on Valiant Records, an independent label out of L.A., best known for putting out the Association's records. The single got airplay on KMEN and KFXM in San Bernardino, and in various markets across the country, but failed to chart nationally.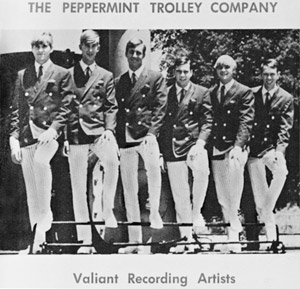 The Mark V disbanded in early 1967. (Dave0 – "Our break-up was very gentlemanly. We had been playing together since the 8th grade and now we were freshmen and sophomores in college…all at different colleges. We all needed to stay in college or be drafted. Lollipop Train didn't "pop" (Valiant was purchased by Warner Bros. and phased out; they really only wanted the Association). I was the one who started it, leaving the band to go off to be a disc jockey. Danny and Jimmy Faragher took the Peppermint Trolley Company forward with a lot more fame with two other guys we all knew from Junior High/High School; both good guys and very talented. Danny & Jimmy then formed the Faragher Brothers with two other family members. Very talented family…little brother Davey Faragher is bassist for Elvis Costello."
(Danny) – "Being a part of the Mark V helped shape who I am. I learned a lot about creating music, and about keeping a band together. We had a lot of good times, and made some great music along the way. There'll always be a special place in my heart for my Mark V band mates… Dave, Steve, Brad, Jimmy and Dick… Stand – up guys, all! I feel lucky to have spent my teen –age years in their company."
See Also:
Early Years
The Peppermint Trolley Company
Bones
The Faragher Brothers