June 13, 2014 in Events, Happenings by admin
Gary Schneider, host of the show, Open Mynd Excursion  (Luxuria Music, Wednesday, 9:00 – 11:00 pm PST) delights listeners each week by playing a recording drawn from his vast collection of radio air checks.Recently he featured an air check from June 5, 1968 of Boss Radio KHJ, in which the Peppermint Trolley Company's hit "Baby You Come Rollin' Across My Mind"  was aired.(approximately 15 minutes in) The DJ was L.A. radio legend, the Real Don Steele. The artists on the program represent a myriad of styles, from the Fifth Dimension to Cream. from  the Stones to Tiny Tim. It is a fascinating time capsule in sound.
Click play below to listen to this blast from the past:
Courtesy of Gary Schneider of Luxuriamusic.com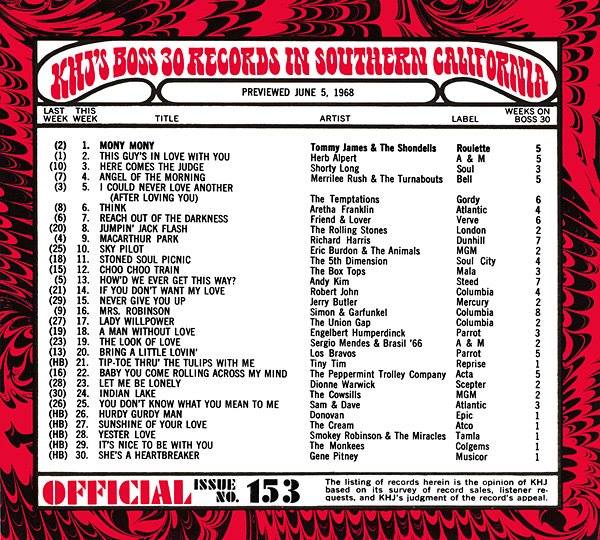 Back in the sixties 93 KHJ was king of the L. A. airwaves They were the biggest, baddest top forty station on the West Coast. If your record got played on Boss Radio, you had  a very large foot in the door. That this giant would put our little ol' 45 on their playlist was was like manna from heavden.
We had recorded "Baby, You Come Rollin'…" in November of 1967, and the single was released early in '68. Though we believed in the record – it was heartfelt, honest, and catchy as hell –  It hadn't caused much of a stir, and by May we had all but given up on it. In the meantime, we were living in a rat infested band house in Silver Lake. In spite of being poverty stricken and undernourished, we'd managed to maintain a creative regimen of writing, arranging, and rehearsing new material with the intention and hope of releasing an LP. Our manager/producer , Dan Dalton tried selling ACTA president, Kenny Myers on the idea, but Myers, being an old school record man,  was reluctant. I remember sitting in Dalton's tiny office, when Dan got the call from Myers that nixed the idea. Talk about feeling dejected, it looked like the end of the line for the Trolley. Then something strange happened, something out of a feel-good fantasy  movie.  The phone rang  again  a couple of minutes later.  It was Myers,once more, but this time he was eager to green light the album.  Why? It seems that , just like its title, "Baby You Come Rollin' Across my Mind" had been quietly rolling from region to region over the past four months, gradually picking up steam. It was a number one hit in Louisville, Kentucky. Bill Drake, the top forty consultant with an uncanny knack for picking hits, had fallen in love with the record. To a number of stations located in major cities, Drake's word was gospel; they trusted him implicitly. KHJ was putting our single into rotation as of that very night, and  not only was Boss Radio jumping on the record, so was the entire Drake Chain.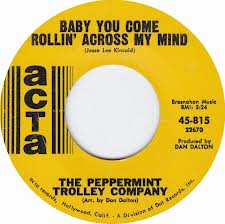 That night we heard our record played on the radio. A few days later we were appearing on television.  By June 5, the date of this air check,  we were still holding our own among such classics as Sunshine of Your Love, Jumpin' Jack Flash, and Mrs. Robinson. It's sad and eerie knowing now that tragedy was about to strike. On the following night of June 6, having wrapped up a recording session at Moonglow Studios (probably for the album cut, Put Your Burden Down), we heard the heartbreaking news over the car radio that Bobby Kennedy had been shot. To quote Dickens – 'It was the best of times. It was the worst of times."
Peace,
Danny Faragher