August 31, 2016 in Events
During the winter of 1967 my brother Jimmy and I continued to drive into Holly wood
on the week-ends to record with Producer Dan Dalton. In addition to cutting three sides
as the Peppermint Trolley Company, we sang and played background for other artists.
A 45 single of 'She's the Kind of Girl'/'Little Miss Sunshine' was released on Dalton's
Kelly label before being picked up by Acta Records.
In the meantime the world around us seemed to accelerate. Along with our drummer
friend, Casey Cunningham, and new found buddy, Patrick McClure, we became active
in the Peace Movement and, dare I say it, slightly psychedelicized.  We were listening to
a wide range of artists, including the Doors, the Jefferson Airplane, the Paul Butterfield
Blues Band, Phil Ochs, and Laura Nyro.  We understood that Acta had signed us with the
expectation that we would deliver light pop fare (a genre that is now refered to as sunshine pop).
Although we were confident we could provide that kind of sound, we were filled with creative
energy and chaffing at the leash. Our dream was to form a real band with Casey on the drums
and to come up with an original sound.
In May Jimmy wrote a song that seemed to encapsulate the moment. It was called 'It's a Lazy
Summer Day'.  Melodic, dreamy and innocent, it was like a flower-child anthem. The three
of us played it for  Dan and his wife, Lois Fletcher, and they both loved it. Within the week
we were in Moonglow Studio to lay it down before summer. It was the first PTC record on
which we cut our own basic track, which was recorded live with Jimmy on bass, Casey on
drums, and me on the Hammond B3. Danish singer/songwriter James Fleming Rasmussen
played the acoustic guitar. The vocal arrangement was done on the spot as we stood in front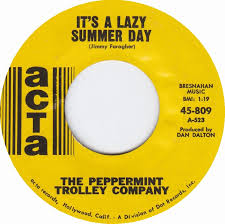 of the mic.
As we listened to the rough mix, the excitement in the room was palpable. By God, we had
our own sound! The harmonies and counter points were sophisticated and psychedelic, while
the organ intro and outro gave it a baroque flavor.Yes, it was light and breezy but it was also
organic and honest. Amidst  the song's carefree innocence a darker reality was implied – 'No
one wants to start a fight/ So let's take a walk tonight.'   It was like a blossom in
the barrel of an M16. We'd managed to stay in the ballpark while pouring a little magic
mushroom powder into the soda.
Acta president, Kenny Meyers, was crazy about it and decided to do a rush release. By July,
'It's a Lazy Summer Day'  was pressed and ready to be shipped (Listen here.) One
morning, three weeks later I received a phone call  on my folk's phone. On the line was Bob
McCormack, the program director for radio station KMEN 129 in San Bernardino. He had
just read the rave reviews of our record  in Billboard, Cashbox , and Record World. Man, was
he pumped.  'Danny, we're going to bring this one home for you guys!' he told me. That
day we heard 'A Lazy Summer Day'  on the radio. The Summer of Love was in full swing.