July 20, 2016 in Happenings, Of the World, Poetry, Thoughts
The Devil and the Koch Brothers
The Devil dined with the Brothers Koch.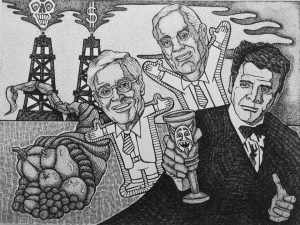 "Boys," he said. "I like your style…
"You pull those strings behind a cloak
"And embrace the darkness with a smile."
The Brothers drank the wine and dreamed
A dream of empires rich and vast.
And with their dinner guest they schemed
And gave a toast to oil and gas.
"The meal's on me." the Devil said.
"I'll see you boys in the 'by and by'."
And there was scarcely a moment's dread
Or thought of the camel and the needle's eye
On the writing of this poem:
I composed this piece in 2011. At that time the Koch Brothers were still pretty much flying under the radar.
I was puzzled as to what motivated them. How much more does one need? I would think that with age a person
would grow more tolerant and philosophical.  After all you can't take it with you. David and Charles Koch, however,  seem to have carried their  craving
for power and riches well into their final years. The Faustian scenario popped into my head.
I decided to write it as a rhyming ballad, using  the quick rhythm of say… Coleridge's 'Kublai Khan'.  The conversation is all on the Devil's
part (the silver tongued gent). I enjoyed closing it out with a biblical reference.
On the artwork:
Michael and I have collaborated on a number of pieces. His visual illustration is always original and provocative.
I am particularly knocked out by the art here.  With just a few suggestions –  among them that I wanted the Devil to be attractive and
human- he took the ball and ran with it. The idea of the Kochs having hand puppet bodies is marvelous . Michael's wife, Patsy Faragher (my sister)
provided the inspiration for the scorpion-tailed cornucopia and also shot the photo. I am proud to say this project has been a family affair.
May there be many more in the future.
Love and Harmony,
Danny Faragher