August 26, 2016 in Happenings
Hard to believe, but it has been a half century since my brother Jimmy and I
stepped into Moonglow, a small studio that stood at the corner of Selma and
Cosmo in Hollywood, California, to record the P.F. Sloan penned 'Lollipop Train'
and our own 'Bored to Tears' for Valiant Records. It was to be our first record
using the moniker 'ThePeppermint Trolley Company'. At the time the two of us
were members of the Mark V, a band that had been together since 1962. Having
already released three singles for Impression Records, we weren't complete novices,
but we were still pretty green. At the urging of producer Dan Dalton, we changed
our name and began to focus in a new direction, striving for a more polished sound
with the accent on the vocal arrangements.
When we arrived in the summer of 1966 the city teaming with creativity. With new
sounds emerging from L.A based bands like Love, the Buffalo Springfield, the Doors
and Frank Zappa's Mothers of Invention, it was an incredible year for popular music.
The Beatles, Beach Boys, and Rolling Stones had recently released 'Revolver', 'Pet
Sounds', and 'Aftermath', respectively, pushing the boundaries of rock music. There
was a buzz in the air, and the Hollywood music scene was alive and well with numerous
rock clubs like the'Trip', 'Pandora's Box', and  'Bido Lido's'. Oh, it was such an exciting
time to be in town. We were jazzed just to be playing a part.
By February of the following  year, the others members of the Mark V would choose to go
their separate ways, and  Jimmy and I would continue to record as the PTC . In the fall of
1967, with the addition of Casey Cunningham, and Greg Tornquist, the classic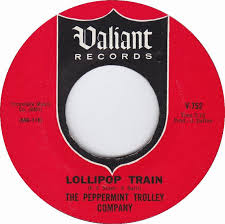 line-up
of the band would be in place. In November we would set to wax the haunting 'Baby,
You Come Rollin' Across My Mind' which would change everything, and give us the
green light to record the critically acclaimed Peppermint Trolley Company album
in 1968. Over the years the LP would gain cult status as a classic of psyche rock, baroque
rock and sunshine pop (terms that would be coined decades later). In 2009 it would be
gloriously reissued under the title 'Beautiful Sun' for Steve Stanley's Now Sound Records.
As of this writing, Jimmy, Casey, Greg and I are all still alive and well, as are the former
members of the Mark V.  Sadly we lost Patrick McClure a few years ago. Though Pat had
been in PTC  only briefly (He appears with us in the'Beverly Hillbillies" episode), his song
writing was essential to the artistic success of the album. He is dearly missed.
It warms my soul to know that fifty years after we pulled up to the curbside at Selma and
Cosmo to embark on a new adventure, the music of the Peppermint Trolley Company is
still rolling across people's minds. Long live the PTC!
Love and Harmony,
Danny Faragher