February 20, 2015 in Events, Happenings
———Offcial Press Release——

Danny Faragher's New Album "Dancing with the Moment' Throws Event Packed Party to Kick off Launch
Legendary Singer and Producer Danny Faragher Celebrates His New Album with Exclusive Record Release Party, New Video and Limited Edition EDM Remix
Music business veteran and pioneer Danny Faragher, (The Peppermint Trolley Co., Bones, The Faragher Brothers) has announced the release date for his new album Dancing with the Moment, as well as a special event record release party complete with live performances and the album's first video.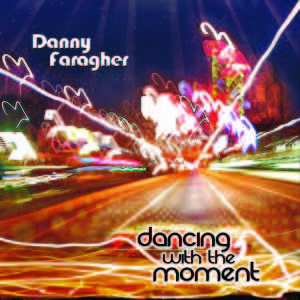 The album titled Dancing with the Moment has been in the making since Danny's last album A Blue Little Corner nearly 10 years ago, and will be release on his new label, The Blue Print Sound onMarch 1st.  It's an eclectic collection of works that represent the many facets of his varied career, ranging from sixties inspired psychedelic folk tunes to California beach sounds, lush ambient piano ballads, a jazz quintet, and electronic productions of soul and classic R&B grooves.
"It is the album that takes a whole life to write." says Danny Faragher, "There is a track on the album I first wrote in high school, before the Beatles invaded America."
Critical reviews so far have been nothing but positive. Beverly Paterson of Something Else Reviews called it "Enchanting and electrifying. Dancing with the Moment is one of the greatest albums of the year or any year for that matter."
To commemorate the launch of the album, a record release party has been scheduled for March 1st at The Guitar Merchant Live Music Venue. Many members from Danny's past musical projects will be in attendance, from The Peppermint Trolley Company, Bones and The Faragher Brothers, as well as a live performance by many of the original Faragher Brothers playing one of Danny's songs off Dancing with the Moment.
In addition, the unveiling of the music video for the song Too Much Pressure, will also be a key feature of the event. The video reportedly took 6 months to produce and features the cinematography of Shervin Ahdout.
As a promotion for the event, a limited edition release of the dance version of "Too Much Pressure" will be given out to exclusive guests. The Too Much Pressure –Rebel Sole Pressurized Dance Mix was made exclusively for the event and produced by, EDM producer and DJ, Rebel Sole.
Radio Station KCSB DJ Tibo "Tibonious Funk" Cuellar will have a booth to hand out additional promotions as well, broadcasting a recording of the event on his following show "Cold Cuts".