April 1, 2015 in Events, Happenings, Thoughts, Uncategorized
Our first LP – the eponymous 'The Faragher Brothers' aka 'Yellow Album' was the the culmination of three years of wood shedding. Countless hours (many of them spent in the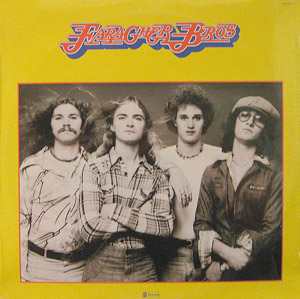 basement of our folk's house in Redlands) went into writing, arranging, and honing the sound that would emerge on our first release.  Although the record never gained the status it deserved, it has remained a cult classic. The Japanese Sony reissue of 2000  sold out immediately. As of this writing, a new copy ships for $300.00+.
One listen will tell you why the record has become a classic. It is timeless – artistically pristine, yet soulful and heartfelt. We were the real deal, and I am proud to have been part of it.  The fact that were able to get so much of our music down on wax makes all the sacrifices worthwhile.  
I would like to express our gratitude to our all our loyal fans who have kept the flame burning and spread the word over the years. Thank-you, thank-you. We  love you! For those of you who have expressed frustration at not being able to purchase the music there is good news. A reissue of the entire Faragher Brothers catalog is in the works. Keep your fingers crossed!
Here is a review of the album written by Beverly Paterson for the online mag, 'SomethingElse'.
DECEMBER 28, 2014 BY BEVERLY PATERSON
The Faragher Brothers –Faragher Bros (1976): Forgotten series
Actual siblings, the Faragher Brothers starred Jimmy on vocals, Danny on vocals, keyboards, trombone and percussion, Tommy on vocals and piano, and Davey on vocals and bass. Hailing from Redlands, California, these guys had been staples of the scene for over a decade, particularly Jimmy and Danny, having acquired national fame with the Peppermint Trolley Company. 1969 saw the band score a hit single with "Baby You Come Rollin' Across My Mind," while their solitary album, The Peppermint Trolley Company, is a masterpiece of its era.
Although the Peppermint Trolley Company specialized in psychedelic pop a la the Left Banke and the Strawberry Alarm Clock, the boys had solid backgrounds in many different styles. Come the early 70s, they pursued their appreciation of soul music with ardent fervor, and signed a deal with ABC Records, resulting in a pair of albums. A real family affair, the band later added brother Marty and sister Pamela to the line-up, and were now employed by the Polydor label where they released two albums before dispersing.
But the album we're currently discussing is the debut effort, Faragher Bros, which is also often referred to as "The Yellow Album." Produced by Vini Poncia, who played in notable '60s bands such as the Trade Winds and the Innocents, penned tunes for the likes of the Ronettes, Tommy James, and Leo Sayer, and worked with Ringo Starr, Melissa Manchester and Kiss, the disc not only perfectly captures the vibe of the hour, but further characterizes the band's impeccable chemistry and multiple talents.
Torched by a funky undercurrent, wired with stabbing horns and sweeping choruses, "Best Years Of My Life" launches Faragher Bros off in splendid shape as the catchy track homes right in on every aspect of the band's abilities. Beautifully breathy harmonies, compounded by smart and striking arrangements sparkle forth on "In Your Time Of Need," fiery funk grooves encompass "Give It Up," and "Please Hurry Up" mixes reggae beats with sweet soul sensations to satisfying effects. Set to a jazzy motif, "You Touched Me" projects a sexy feel, a version of Curtis Mayfield's "It's All Right" remains loyal to its springy and carefree complexion, and "Never Get Your Love Behind Me" soars to a smooth and polished finish.
Emotionally charged singing, derived straight from the gut, joined by locked-in instrumentation and pin-sharp hooks make Faragher Bros an album where each number explodes with radio-friendly qualities. Having researched their Temptations, Isley Brothers, O'Jays, Barry White, and Earth, Wind and Fire records well, and transpiring their knowledge and talent into action, these guys were the genuine article.
Upon hearing Faragher Bros, you'll no doubt be puzzled as to why the band didn't crack the big time. Truth be told, image has a lot to do with success, and the group's hippy jam band look, which entailed long hair, puka shells, and jeans, just didn't jive with the slick and classy soul sounds they so stunningly sang and performed. Marketing and promotion be darned, Faragher Bros is an outstanding collection of sincere soul music and is primed for rediscovery.
Beverly Paterson was born the day Ben E. King hit No. 4 with "Stand By Me" — which is actually one of her favorite songs, especially John Lennon's version. She's contributed to Lance Monthly and Amplifier, and served as Rock Beat International's associate editor. Paterson has also published Inside Out, and Twist & Shake. Contact Something Else!