March 23, 2016 in Events, Happenings
Good news!
Danny Faragher's  first solo release, A Blue Little Corner,  which had sold out of hard copies, has been restocked and is now back on the shelves. The album, originally released in 2001, is a collection of originals, old chestnuts, and  a few jumpin' rockers. A Blue Little Corner spotlights the artist's expressive vocals and inventive harmonica playing, weaving stylistically through blues, ballads, and rhythm songs. The instrumental backing is spare but superb, and features Bill Knopf on guitar and banjo, Tim Horrigan on keyboards , electric and acoustic guitar, bass, and drums, and Simean Pillich on acoustic bass.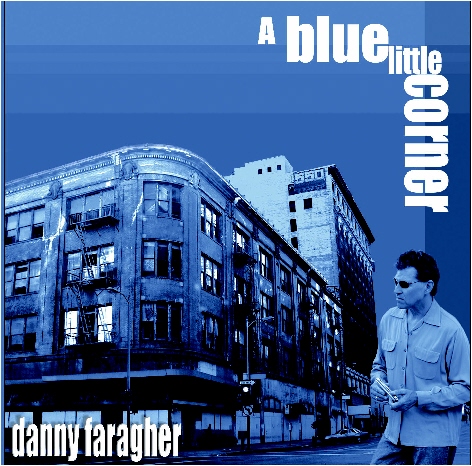 CDs and downloads can be purchased through CD Baby. Tracks downloaded through iTunes, Amazon,  Google (where you can also listen to samples),  and all other major retail sites. The album is also available on streaming sites like Spotify and Rhapsody.
Danny Faragher on the making of A Blue Little Corner.
I had written  the song 'A Blue Little Corner' some years ago. This jazzy blues was originally conceived as a vehicle for a female singer, but having changed a few words here and there,  I decided to take crack at recording it myself.  I was pleased with the result. Musically it conjures up a cool, noire-esque,  1950s atmosphere where a Don Draper would fit right in. The voice and chromatic harmonica trade off, painting a picture of a disillusioned soul getting lost in some smoky dive.
With 'A Blue Little Corner' as the cornerstone, I set out to put an album of material together. I recorded another original, 'Danny Boy's Jumpin", an up tempo harmonica number that's an antidote to those blue feelings expressed in the title cut. Bursting out of the gate with energy and exuberance, it's guaranteed to get you up and moving. In addition, I had three tracks that I'd laid down a few years earlier. The first, 'Get Rhythm', is the Johnny Cash song, with a hopped up vocal and slashing amplified blues harp. The second, 'Blues in the Night', by Harold Arlen and Johnny Mercer,  features a full throat-ed bluesy vocal, and amped chromatic harmonica over a shuffling track. The third was a rendition of the iconic Elvis cut, 'That's Alright, Mama' written by Arthur 'Big Boy' Craddup, which I extended by adding a country blues harp solo on the end.
Five tracks were now in the in the can. In the late nineties, I'd begun looking back on the twentieth century's musical legacy, listening to older styles, including ragtime, early jazz, swing, and bebop, and to the tunes that have come to be labeled 'The Great American Songbook'.  As a musician, I was bowled over by the emotional directness and intensity of artists like Louis Armstrong, Sydney Bechet, and Benny Goodman, and  found myself incorporating the feel into my harmonica playing. As a singer, the time spent listening to traditional pop vocalists like Frank Sinatra, Nat King Cole, and Rosemary Clooney had taught me a lot about how to deliver  a song.
I picked four classic tunes that I loved dearly. I decided to have a very bare bones approach. Chromatic harmonica intros and solos (usually cupped with a mic and amplified) alternating with smooth vocals – both being backed by acoustic guitar or banjo, acoustic bass, a smattering of drums. and a bit of vibes. 'Stompin' at the Savoy', the swing anthem written by Edgar Sampson, I recorded as an instrumental. 'On the Sunny Side of the Street', by Jimmy McHugh and Dorothy Fields, always one of my favorite songs, spotlights a straight-ahead vocal  filled with heartfelt longing, and an Armstrong/Bix Beiderbecke inspired solo on the harp. My plunger trombone adds a taste of the Ellington Band to the mix. 'Memories of You', the Eubie Blake, and Andy Razaf ballad takes a different tack, featuring the harmonica at the beginning and end of the song, and the voice sandwiched in the middle. The fourth number is 'Lady Be Good', the George and Ira Gershwin classic. Pure fun from beginning to end, it highlights the amazing five string banjo work of Bill Knopf , including a bluegrass flavored solo that passes the baton to a jumpin' jivin' harp solo. I chose to toss off the vocal nonchalantly with a dose of boyish charm and it seemed to work.
In 2000, I was able to give a copy of the album to my mother in the final weeks before she passed. I was told that she would request to hear 'Sunny Side of the Street' over and over again, and join in singing, saying it made her feel happy.  For me, the knowledge that the music brought my mom joy in her last days is the greatest compensation I could ever receive.
Love and Harmony,
Danny